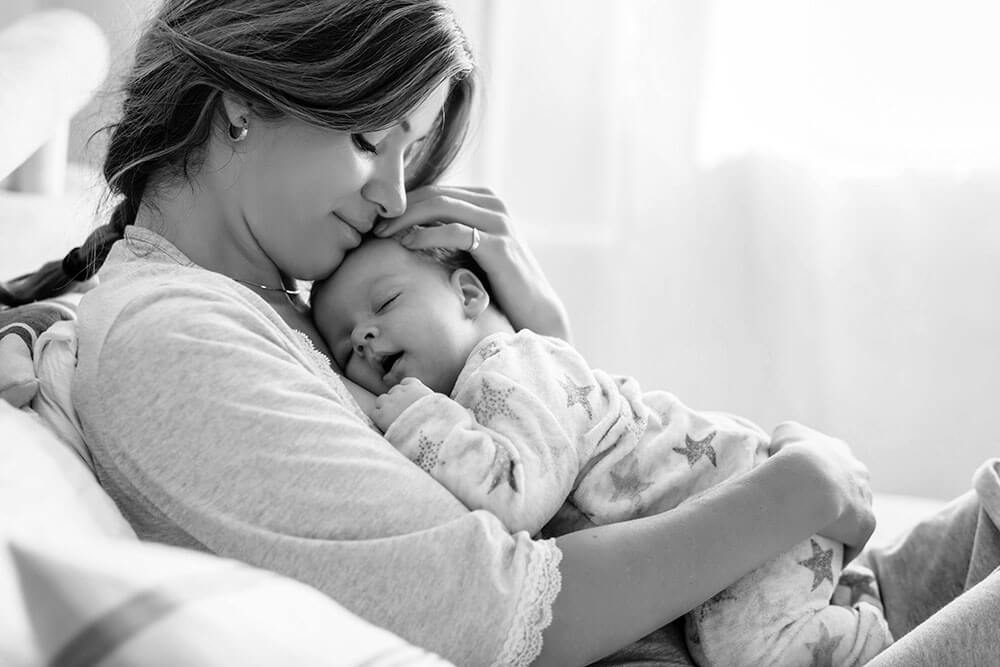 Focusing on your baby and their financial future
Becoming a parent for the first time is exciting, unpredictable, and of course, a little daunting. For some new parents it can also be overwhelming. Suddenly, you are not only responsible for yourself, but another person who depends on you for everything. It also forces you to address financial issues you may not have had to focus on in the past.
If you are a new or expectant parent feeling stressed about putting your financial house in order, we've provided our top 5 tips to consider.
1. Identify your financial goals
For most new parents, focusing on the big picture isn't easy. You're sleep-deprived, juggling naps and feeding schedules, and excited about the new little person in your life. But now is the time to start focusing on your baby and their financial future.
Understandably, most new parents find their own goals change with the arrival of a new born. It's important to get a sense of what you are working toward both in the near term and long term. Its natural to feel torn between competing goals, the key is to prioritise.
Whatever financial planning action you decide upon, the best course is to do what you can comfortably afford to plan for. This may mean temporarily putting some other priorities on the back burner as opposed to stretching yourself too thinly.
Looking to the future your child will need money down the road for their education or for a car, wedding or house deposit. That's why it's important to set financial goals and get into the habit of saving and investing for them now.
2. Make a budget and track spending
With a new child comes new expenses. When you find out you're expecting or if you have a new born, your focus should now turn to putting your financial house in order too. A good starting point is to draw up a budget and make a list of all your current incomings and outgoings.
Make a realistic budget that reflects your new lifestyle and track your spending. If your housing and other costs have increased owing to your growing family size, make a new monthly budget that reflects those added expenses.
If you find you can't keep to the budget on the first or second try, don't give up, adjust your budget until you come up with one that works for your family. Cash flow forecasting and budgeting will be an ongoing process as your situation changes over time.
Tracking your spending will help you to determine whether your money is going toward the things you really care about. It also gives you the information you need to make decisions about your family finances moving forward.
It's important to consider at this point if you are planning to reduce or stop your investments and savings, this could jeopardise both your and your child's financial future. Instead, take a look at your budget and see where you can make the necessary changes to continue your investments and savings.
3. Set up an emergency cash fund
Life as many of us have experienced over the previous 18 months can be uncertain so you need to have a contingency plan for those situations where you, your spouse, or both of you may be unable to work, or face an emergency and need additional funds.
An emergency fund will provide a comfortable cushion for you as a new parent while searching for a job if you are made redundant or whilst recovering from a period of ill health. This should be calculated based on your new family budget. An emergency fund is also especially important if your family is reliant on a single family member's income.
Typically, you should aim to have the equivalent of between 6 to 9 months of your salary set aside which is in an accessible account that can be liquidated easily in case you need it.
4. Invest in your child's future
With the arrival of your new baby you should start thinking about planning to invest for your child's future. Saving for, say, their education or first house deposit is not something that should be delayed. If finances permit, now is the time to start investing regularly and allocating money towards investments that can give inflation-beating returns for them over the long term.
It might seem bizarre to think of your new born child drawing a pension, but with a relatively small investment now you could provide an enormous gift for their future. Thanks to generous tax relief on pension contributions, you can contribute £3,600 a year into a plan for your child it will cost you just £2,880.
You could also start saving or investing into a Junior Individual Savings Account (ISA). Only parents and legal guardians can open these tax-efficient accounts for the under-18s, although grandparents can pay in. You can put away up to £9,000 this tax year. Your child cannot withdraw the money until they are 18, though they can run the account from age 16. The full 18 years means they will benefit from compounding and you can afford to take more investment risk.
5. Make sure you have life insurance 
Becoming a parent prompts many people to buy life insurance for the first time. A stay-at-home parent should also have life insurance, because in their absence a surviving spouse would likely incur higher costs, for things like child care.
If something should happen to you, your life insurance policy will provide financial support toward your family's needs. Whole life insurance provides coverage for up to your entire life, and offers a cash-value component that can be borrowed against if needs arise. Term life insurance provides you with coverage for a fixed length of time, usually 10 or 20 years.
A good guideline is to purchase a policy that provides eight to 10 times the amount of your current annual salary. If you choose term life insurance, be sure to select a policy that will be in effect until your child is at least 18, and consider taking out a longer-term policy if you would like it to remain in place throughout your child's years in further education and university.
Finally, as part of protecting your new family member don't forget to either review an existing Will or make a Will. This allows you to name a guardian (and contingent guardians) to care for your minor child (or children) if you and your spouse both die unexpectedly. You can also name a trustee to oversee any assets placed in trust for your minor children.
Talk to us about creating a secure financial future for your new baby
Creating a secure financial future for your new baby is one of the most important things you can do — but few parents know where to begin. Please contact us to find out more and to see how we could help you.
INFORMATION IS BASED ON OUR CURRENT UNDERSTANDING OF TAXATION LEGISLATION AND REGULATIONS. ANY LEVELS AND BASES OF, AND RELIEFS FROM, TAXATION ARE SUBJECT TO CHANGE. THE VALUE OF INVESTMENTS AND INCOME FROM THEM MAY GO DOWN. YOU MAY NOT GET BACK THE ORIGINAL AMOUNT INVESTED.
PAST PERFORMANCE IS NOT A RELIABLE INDICATOR OF FUTURE PERFORMANCE. THE FINANCIAL CONDUCT AUTHORITY DOES NOT REGULATE TAXATION & TRUST ADVICE.